Online School: Helping Children Stay Focused
Most parents come to us complaining that keeping children focused during online school has become a challenge. However,  with some tips, tools, and strategies, you can help your children stay focused during online school while improving their attention and concentration! 
Identifying what is hard for your child is the first step towards online school thriving. The following questions will give you an idea of what areas can be troubling your child's learning:
Taking the time to identify which challenge is triggering your child's distraction is key to implementing the necessary measures to help him/her focus.
Your child may not need all of the strategies you'll learn here, some may be more helpful than others depending on your child's needs. Take some time to identify and make a quick plan after you read through the list below. 
It is well known that autistic children thrive in routines, however, the beauty of online school is the fact that the schedule can be fixed around you and your child's needs.
The following examples will help you create a flexible-yet established routine for your child.
Routine Example 1:
Routine Example 2:
These are just ideas to provide you with a starting point of a structured, yet flexible routine. These routines are just examples to give you an idea of where to start! Think back to your child's needs and make a rough plan, being ready to adapt as needed.  
If there are papers, toys, and other piles of life laying around, make an effort to straighten up before school starts the evening beforehand. The visual distraction can make it difficult for them to pay attention to.  
We love this idea from lauren.otmama: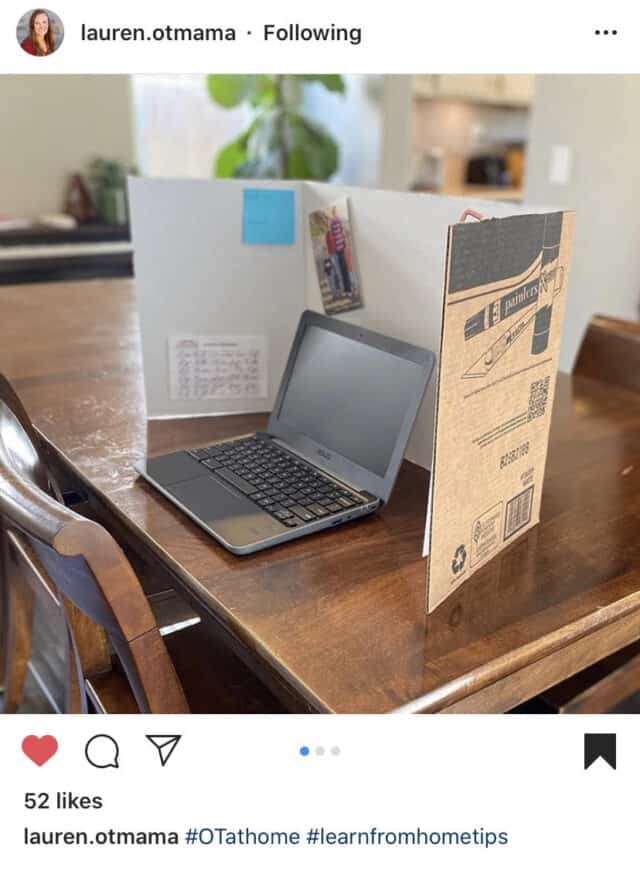 Also, try this free printable hang tag to prevent knocking on your door:
Incorporating physical activity is necessary for easing anxiety. We understand that with quarantine it can be difficult to have access to gyms or parks. However, your backyard or your porch can be a good alternative. 
The following ideas can be helpful to move and get active:
Some days you will feel like you have accomplished a lot and on others, you might feel like you didn't, and that is okay. Remember that this situation won´t be forever and it's not a competition of overachieving either. The whole point of homeschooling is to keep things as "normal" as possible. So give yourself a high five and know that you got this and you are doing incredible!
You got this mommy!
We understand that having yourself and your children in quarantine can be challenging. However, we want to remind you that you are not alone and that we are here to answer all your questions related to autism, covid-19, prevention, stem cells, and more. Feel free to contact us in the comment section.
At WSCC, we offer support for autistic families and their children with Stem Cell Therapy treatments that can transform autistic conditions by healing the gut, decreasing inflammation, and improving brain function. We also created an autistic community on Facebook that is destined to offer support and companionship for ASD parents and their families on their journey.
 Remember, you are not alone!
Sources:
Instagram:https://www.instagram.com/p/CD97cATBs5J/?igshid=k1gluooo24m4